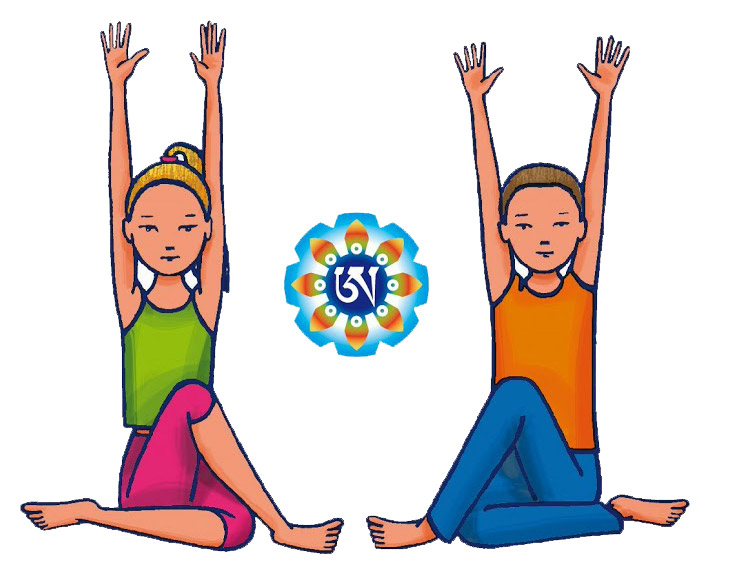 Kumar Kumari
Yantra Yoga for boys & girls
Kumar Kumari is a method of Yantra Yoga designed specifically for children between 5 and 12 years of age. It was conceived and written by Chögyal Namkhai Norbu, taking into account the specificity of children's physical size, energy, and unique qualities of breathing.
Unlike the Yantra Yoga for adults where different forms of breath retention are practiced, in Kumar Kumari respiration is based on inspirations and expirations, and fast lens that are beneficial for children. The particularity of this yoga is that breathing and body movements are combined with 10 sounds with power: the syllables of the six spaces of Samantabhadra (A' a HA SHA SA MA), the three syllables of the Vajra Body, Speech and Mind (OM AH HUM), and the syllable Ham, origin of the Vajra.
This helps rebalance the child's physical or mental condition, ensuring a correct physical, emotional and social development.
Due to its extremely beneficial potential Yantra Yoga for children is likened by the author to a ' great ' medicine because the practice of balancing exercises the functions of the five elements, regulates and strengthens the activities of five prana and all other aspects necessary to keep children healthy and ensure their seamless growth.
Numerous experiences have recently demonstrated the usefulness and the benefits derived from the practice of Yoga in the school context. Thanks to Yoga, in fact, students feel more energetic, but also relaxed, favoring positive atmosphere for children and teachers in classes. Many schools, both in Italy and abroad, offer this kind of extra curricular activities as part of their programs.
The results and benefits encountered by schools that carry out this experience are, among others:
Increase self-esteem
A better overall health level
Better scholastic performance, thanks to a more active memory
An improvement in behavior
Increased awareness of breath and of possible expression of one's own body